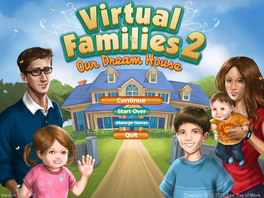 Virtual Families 2: Our Dream House (also known as simply Virtual Families 2 or VF2) is the second installment of the Virtual Families series by Last Day of Work.
It was released December 6, 2012 for iOS and April 15, 2013 for PC/Mac.[1]
Gameplay
Like its predecessor, Virtual Families, Virtual Families 2 is a game where the player can raise a family generation by generation. But instead of living in a nice neighborhood from the start, the little person (whom the player adopts) moves into a partly damaged, unfinished home (formerly owned by a married couple long ago, Bill and Margaret). The player needs to take care of their little family and earn money from various careers using the workshop, kitchen, or office.
Features
There are many things you can do in this game. You start with adopting a character, who has a job that pays among other features and you try to gain success in the game.
The way to success in this game is to continue your legacy by finding a spouse to have children with via online marriage proposals sent through emails your character gets. After finding a spouse, you can have children with them by either making a baby or adopting (which costs 4000 coins in-game), both of which will ensure that your legacy is intact. If you ever want to check out your family tree, you can find it under "Menu". To complete this step, you must ensure that your family survives in the meantime. You can do this by buying groceries and making them work on their career to earn money.
But there are plenty of things you can do in the meantime. This includes cleaning the house, cleaning the yard, rebuilding and renovating the house and building up the different collections. Also, completing goals.
References